The Importance of User Personalization
Personalized onboarding in the Red Bull TV app
The Problem
Red Bull was struggling to create new and engaging connections with their users in the Red Bull TV app. They partnered with the Santa Monica College Interaction Design Program with the following question:
How might we hook Red Bull TV users through personalization?
My Role:
I focused on the ideation, research, prototyping, testing, and the design of the project.
My Solution:
My solution to Red Bull's brief was adding personalized onboarding to the Red Bull TV app.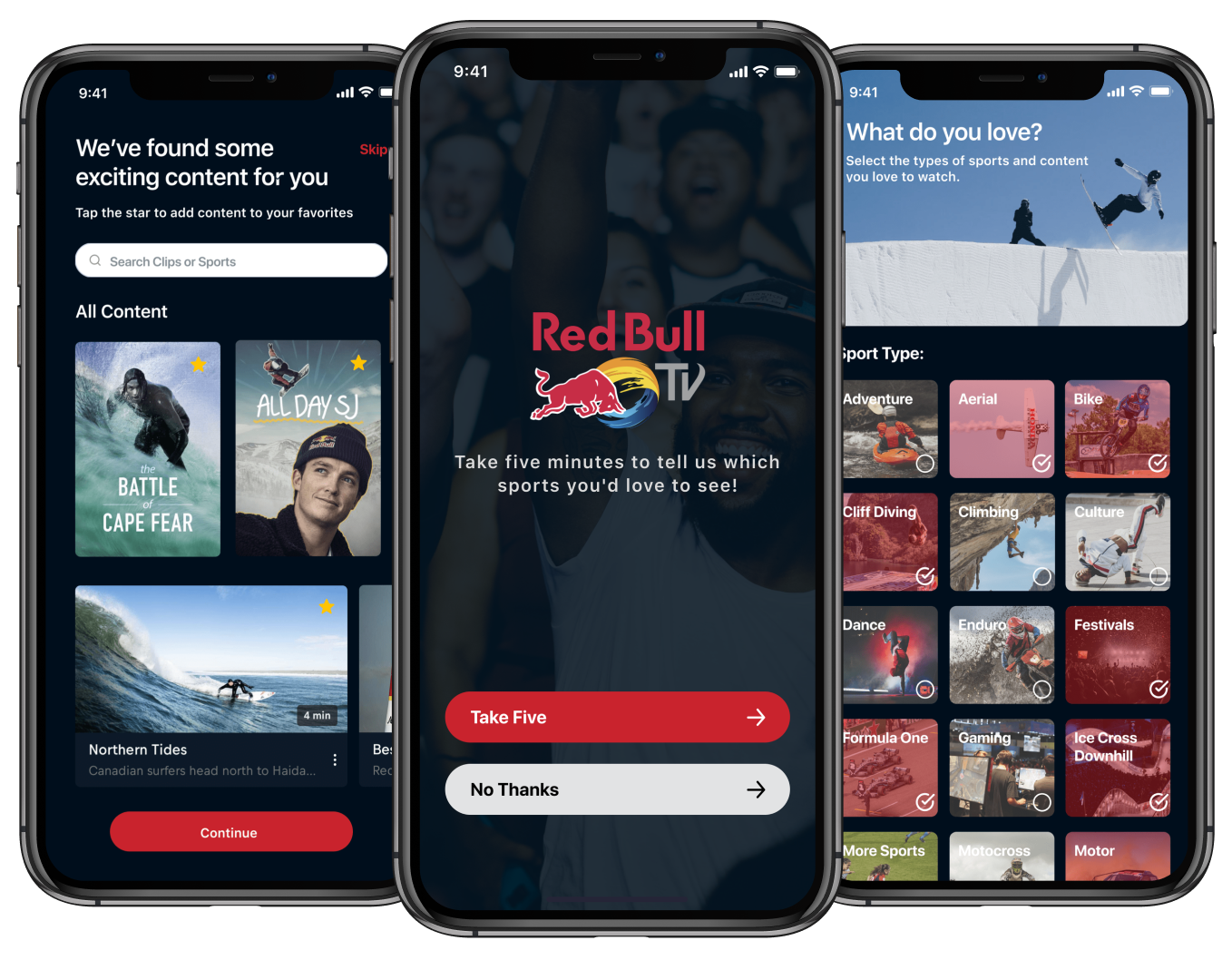 Interviewing Users: A Participatory Exercise
By completing a participatory exercise with new and seasoned users of the Red Bull TV app, I learned what was confusing to them when using the app.
Users were confused by the two menus on the browse page. They were continually searching for content and had no idea where to go to find what they wanted.
Many users felt overwhelmed by the amount of content they saw after opening the app for the first time.
After downloading the app, users were immediately dropped into the app. There was no guidance on how to find content, and many new users quickly lost interest and considered deleting the app. One of the users I interviewed mentioned:
"I'm not here for the app, I'm here for the content.
If I can't find what I want to see on this app there's always another app."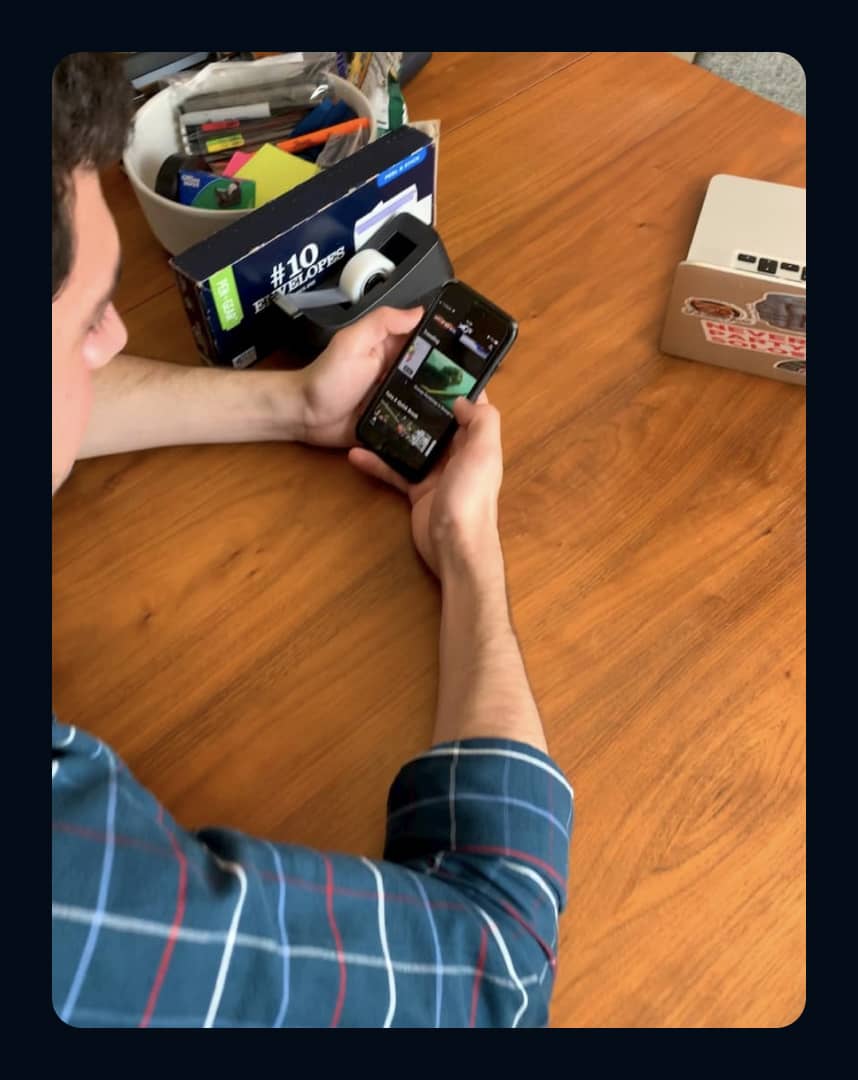 The Focus: Getting Users Hooked
After hearing this I decided to focus on personalization through onboarding to help users find the content they wanted to see and get hooked on the Red Bull TV app.
User Personalization within Competing Apps
I researched ways that other companies incorporate personalization and learned what was important to draw in users.
Trust:  Utilizing user data for personalized experiences such as Spotify Wrapped makes the user feel more trusting of a company.
Customization:  By incorporating a user's preferences in customization of a product, such as what they care about or are focused on, they feel like they are part of the product.
Competitive Analysis of Competing Apps
Through a competitive analysis of apps that provided similar content to Red Bull TV, I was able to understand why Red Bull was struggling to hook users after drawing them into the app.
Red Bull TV did not have much room for personalization. There was no real way for users to find the content they wanted to see.
Competing apps like YouTube and IGTV allowed for features like content shown, streaming options, and more to be configured based on user preferences.
Most competing apps focused on content selection and delivery to users, which is something that Red Bull TV didn't have.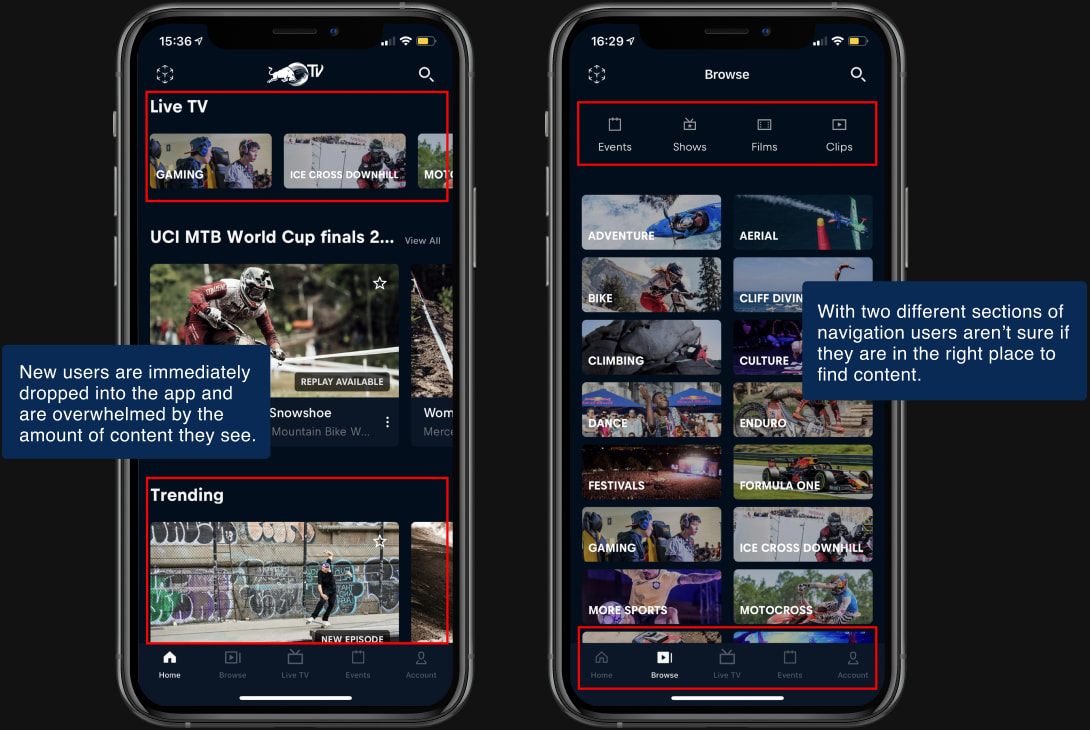 A New User Flow
When sharing this with Red Bull at a meeting, they mentioned their understanding of how they could benefit from onboarding and a new user flow which provided more opportunity to hook users. However, they wanted to see more testing and feedback from users.
Prototyping & Testing
To get an understanding of what might help user's find content, I created a prototype and tested it with a few Red Bull TV app users and learned the following:
 Most users had a hard time sharing their preferences when using the prototype. The buttons were too small, and they didn't want so many options.
Some users didn't like being dropped into the onboarding right away. They wanted the option to get right into the app as an alternative.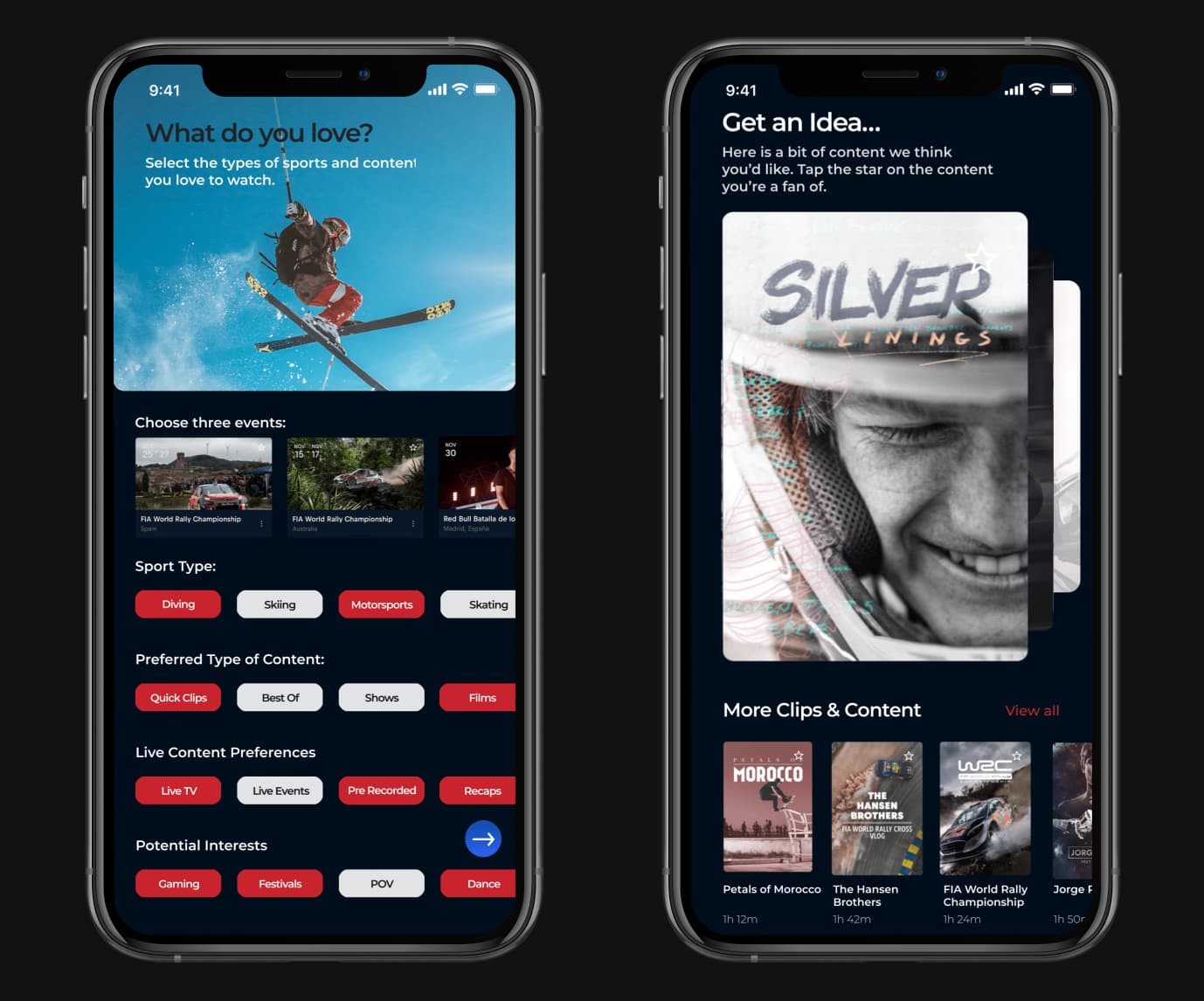 Redesigning from Feedback
Since there were still pain points, I went back to the prototype and redesigned it to make sure users could utilize onboarding to find the content they wanted to see.
I adjusted the size of the buttons and showed fewer options to users. I found that this was faster for users than tediously selecting a multitude of options.
I included the option to skip the onboarding process entirely. This ensured that if users wanted to get right into the app, they could.
I tested the new prototype with the first set of users and learned that it was much easier to use. Plus, they felt like Red Bull cared about what they wanted to see.
"Using something like this to find stuff I want to watch is awesome. I won't have to search forever to find one thing to watch."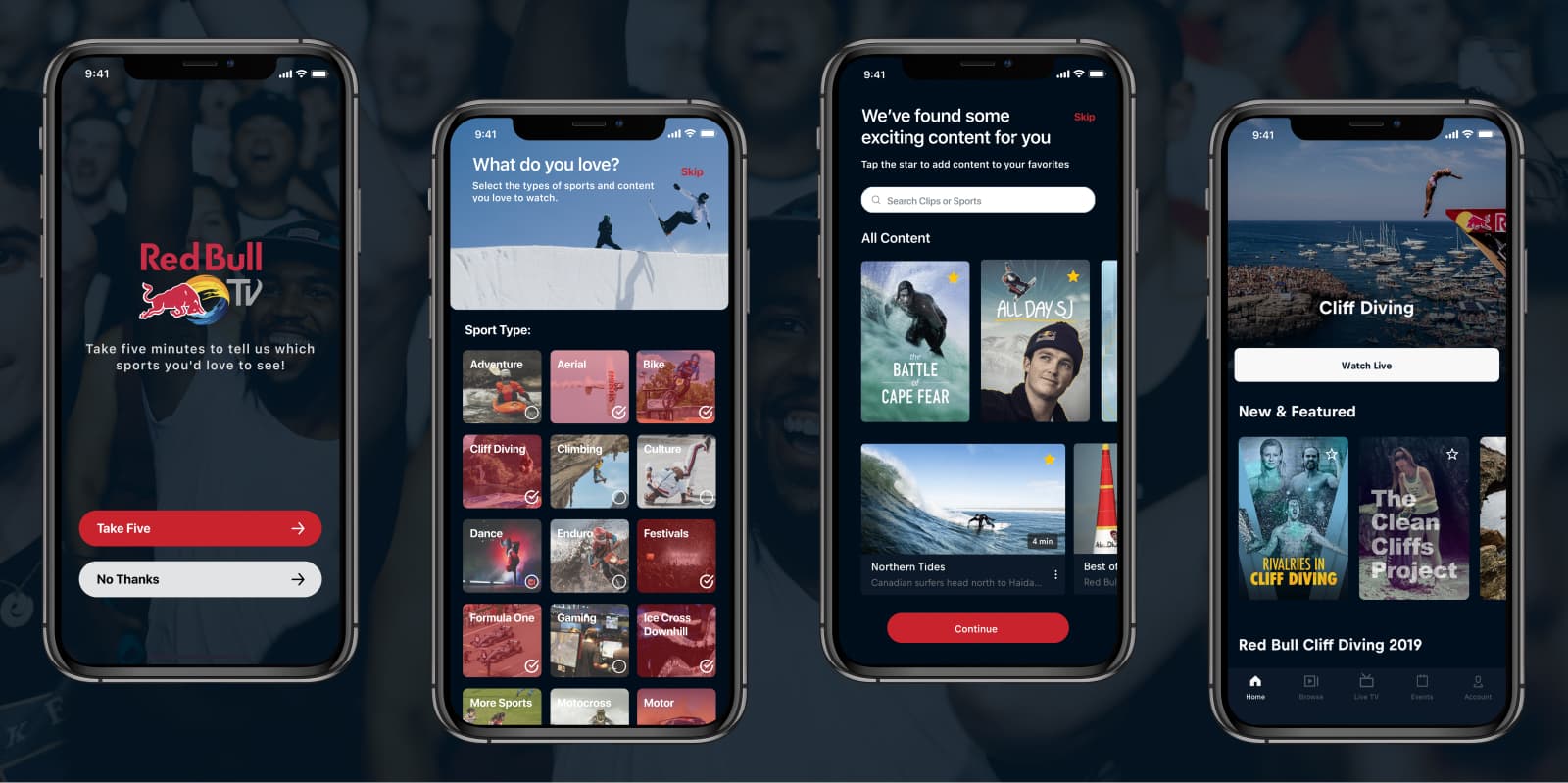 The Pitch
With the data I had gathered over the past few weeks, it was time to present the project to Red Bull and share how they could benefit from the project findings.
Understand Preferences:   Users delete the app if they can't find content. Red Bull needs to help users find content based on what they are interested in.
Hook Users:  Through recommending exciting content to users, Red Bull can hook and keep them in the Red Bull TV app.
Engage Users:   By engaging them with exciting content, users will be eager to watch more, and Red Bull can successfully grow their user base.
By letting each user select the content that interests them, they are more apt to be invested in the Red Bull TV app rather than feeling like it is a waste of space on their devices.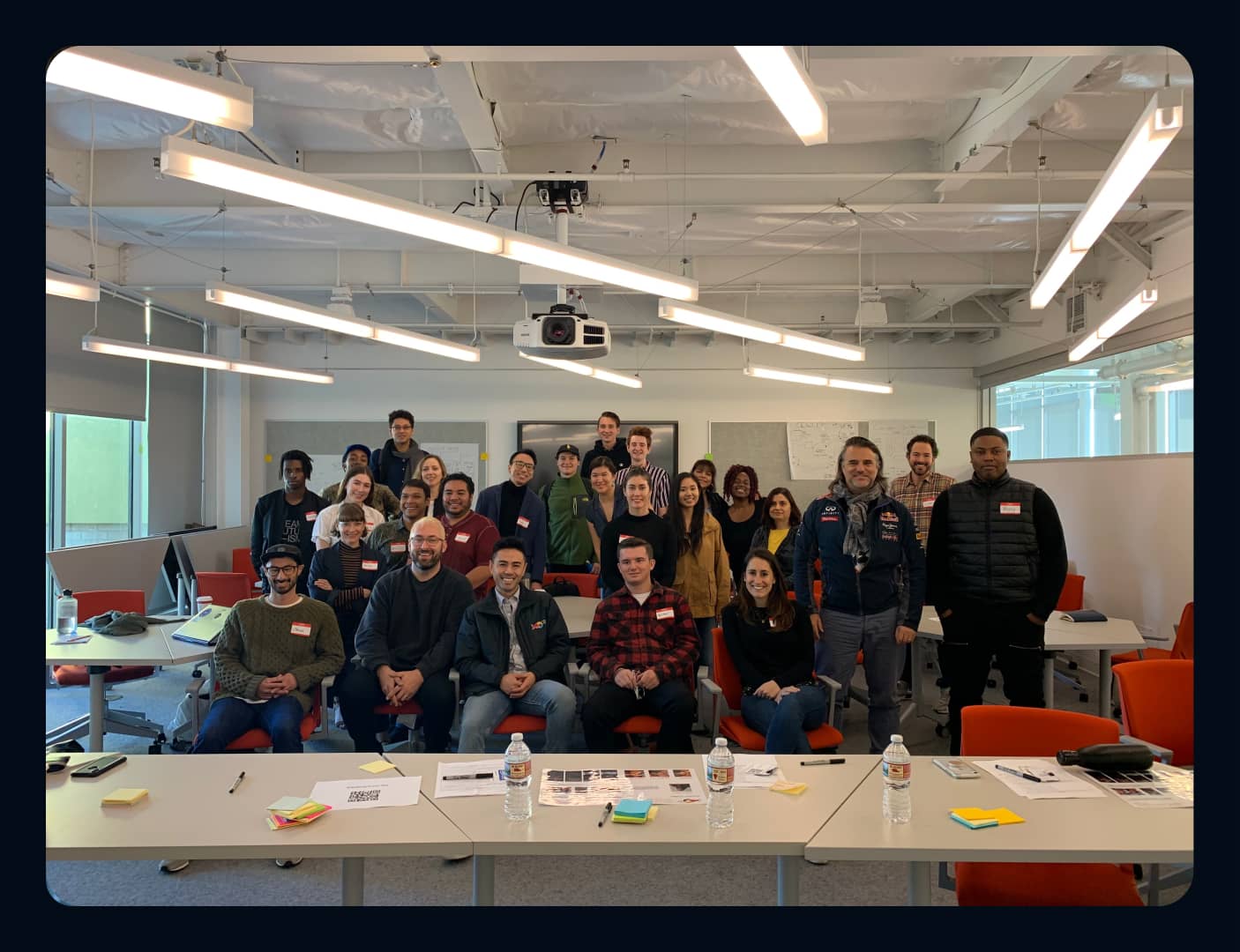 Reflection & Closing Thoughts
What I Learned
Many users I interviewed mentioned that they were happy with most parts of the Red Bull TV app. However, when asked about different areas of the app, pain points would come up. There is usually more to what a user says than is on the surface.
It is incredibly important to understand what the company needs and what the user needs.
The pitch is as important as the project. Making sure that everything comes together seamlessly is crucial to portraying the best work possible.
What I Would Do Differently
Along the way, there were a few struggles that helped me learn what I would like to do better in future projects.
At the beginning of the project, I was confused about the brief. For future projects, if there is any confusion, I will better communicate with stakeholders to completely understand their needs.
I didn't interview many users. For future projects, I plan to interview more users instead of four to five as I did.
Questions?
If you have any questions about my Red Bull case study please feel free to reach out by email or
connect with me on LinkedIn. (I'm seeking a UX position in tech)