Coming of Age as a UX Designer
Reflecting on my first design exercise
Background
Part of my internship application process for Uber was to redesign a feature of Yelp's mobile web view. My project was nowhere close to great, but the experience which I gained changed my UX design approach entirely.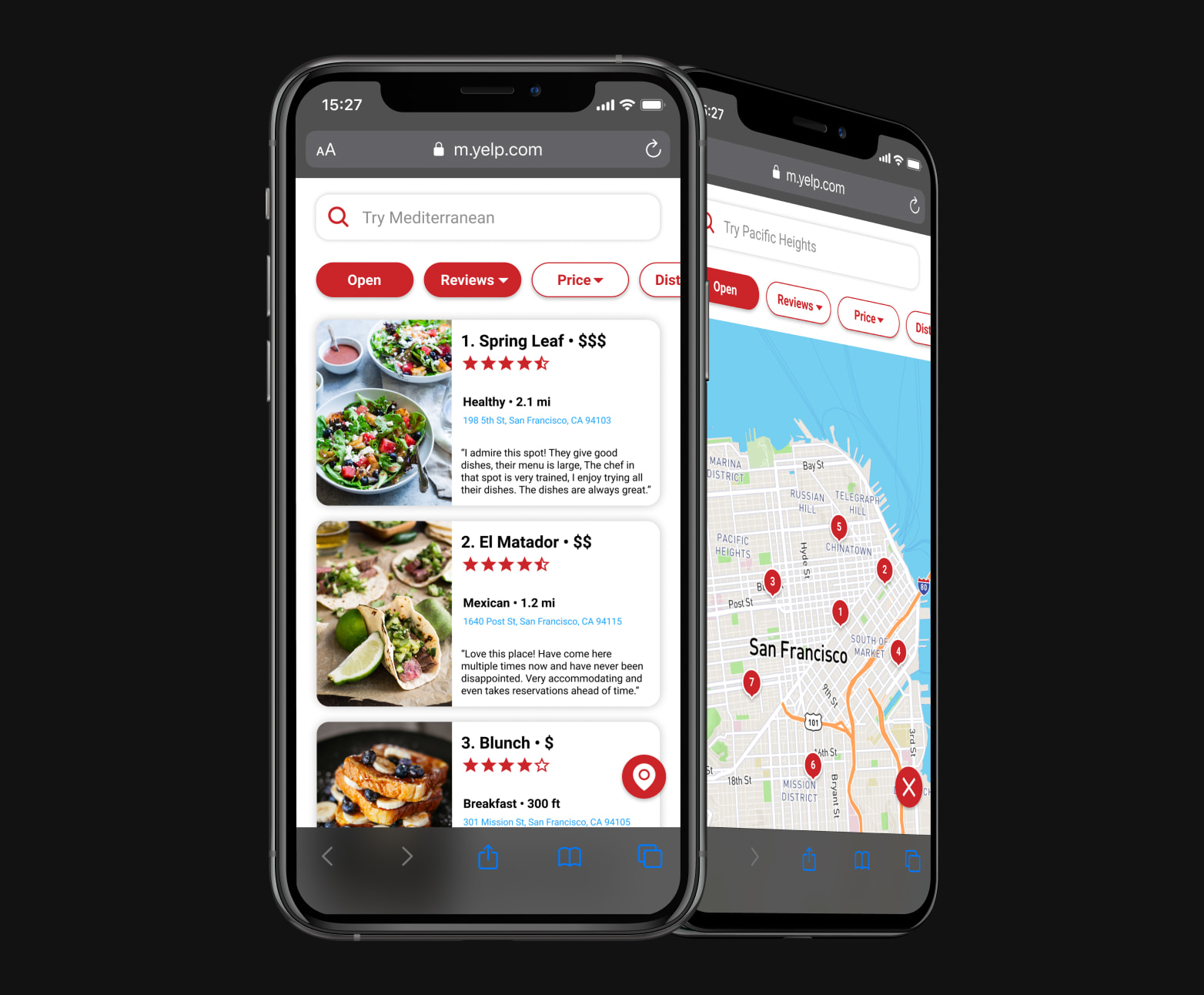 The Beginning
In 2017 I was an 18-year-old designer who spent the first seven months of the year learning everything I could about design. With summer approaching, I was set on getting an internship, so I could apply what I had taught myself to a real work environment. Tech companies have always been a big interest of mine, so when I saw the opportunity to become an intern at Uber, I immediately applied.
My First Approach
Part of Uber's application process included a design challenge. I could choose to "redesign Yelp's mobile flow for restaurant discovery, or redesign Yelp's mobile / list view."
As a new designer about to graduate high school, I decided that my best bet would be to do both… one of my many mistakes as a newcomer. 
I hardly took a look at Yelp's mobile view.  I figured that since I'd used Yelp twice in my life, I could come up with something better than what I briefly took a look at.
I tested the first interface on myself as a "user"  and found that it wasn't exactly practical because of all the information that hit the user immediately.
I figured it was time to take a second stab at the design to see how I could improve it since the first iteration, seen below, needed fixing.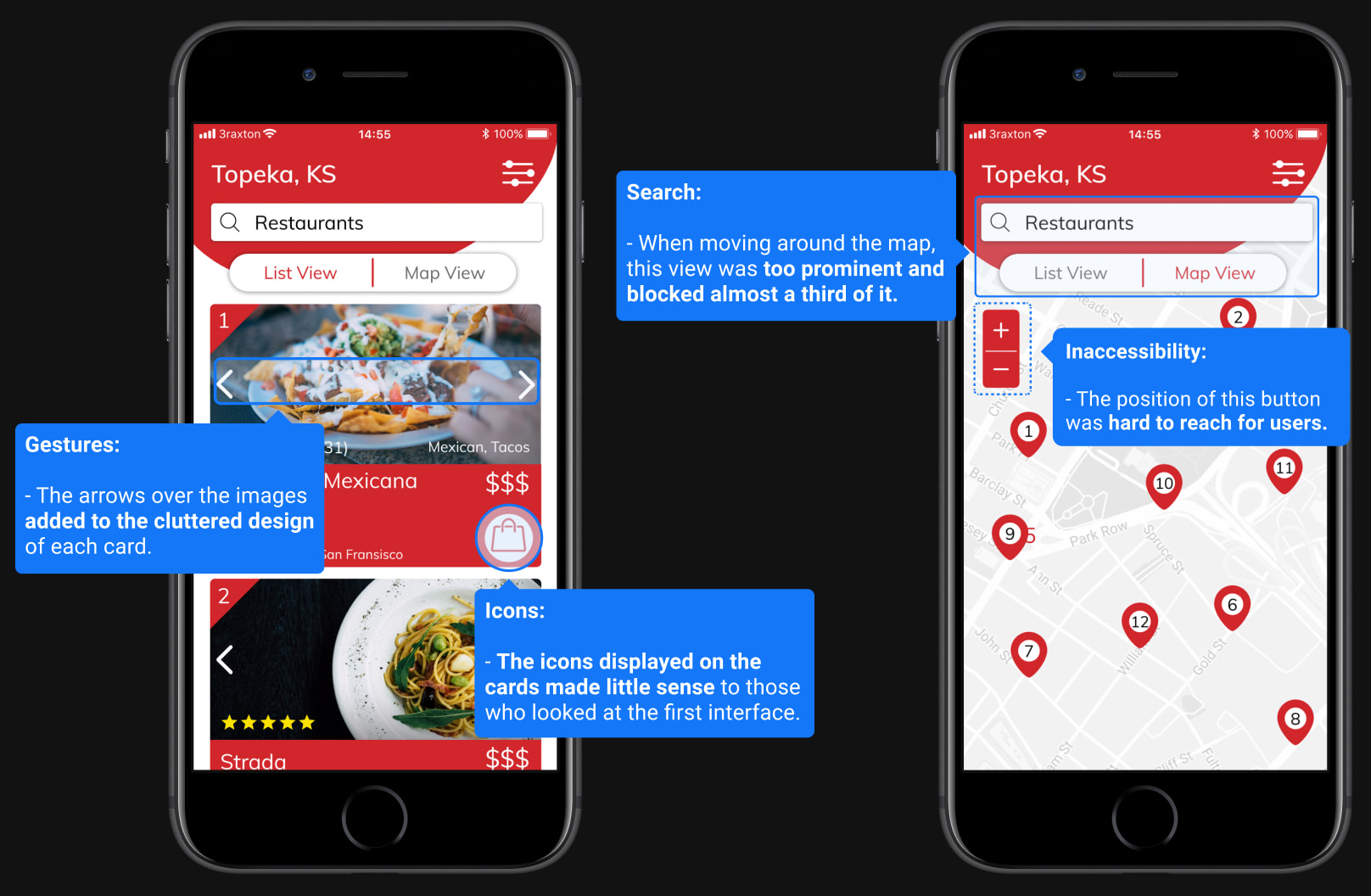 My Submission
When I took my second pass on Uber's design challenge, I felt excited and powerful, knowing that all the decisions for this design would be mine to make.
My Errors
After taking a longer look at Yelp's app, I made a long list of changes I could make to their web view.
The list that I made was not based on any research. Instead, it was based on what I thought users could benefit from.
I dove in and started creating what I felt would improve the user's experience & what I thought would be exciting to design.
Plus, I made sure to use my thumbs to test the position of the cards, buttons, and other elements through Sketch Mirror on my iPhone.
Perfect, right?
I was wrong. As you can see here, the result was a cluttered, unclear, and busy interface with no visual hierarchy.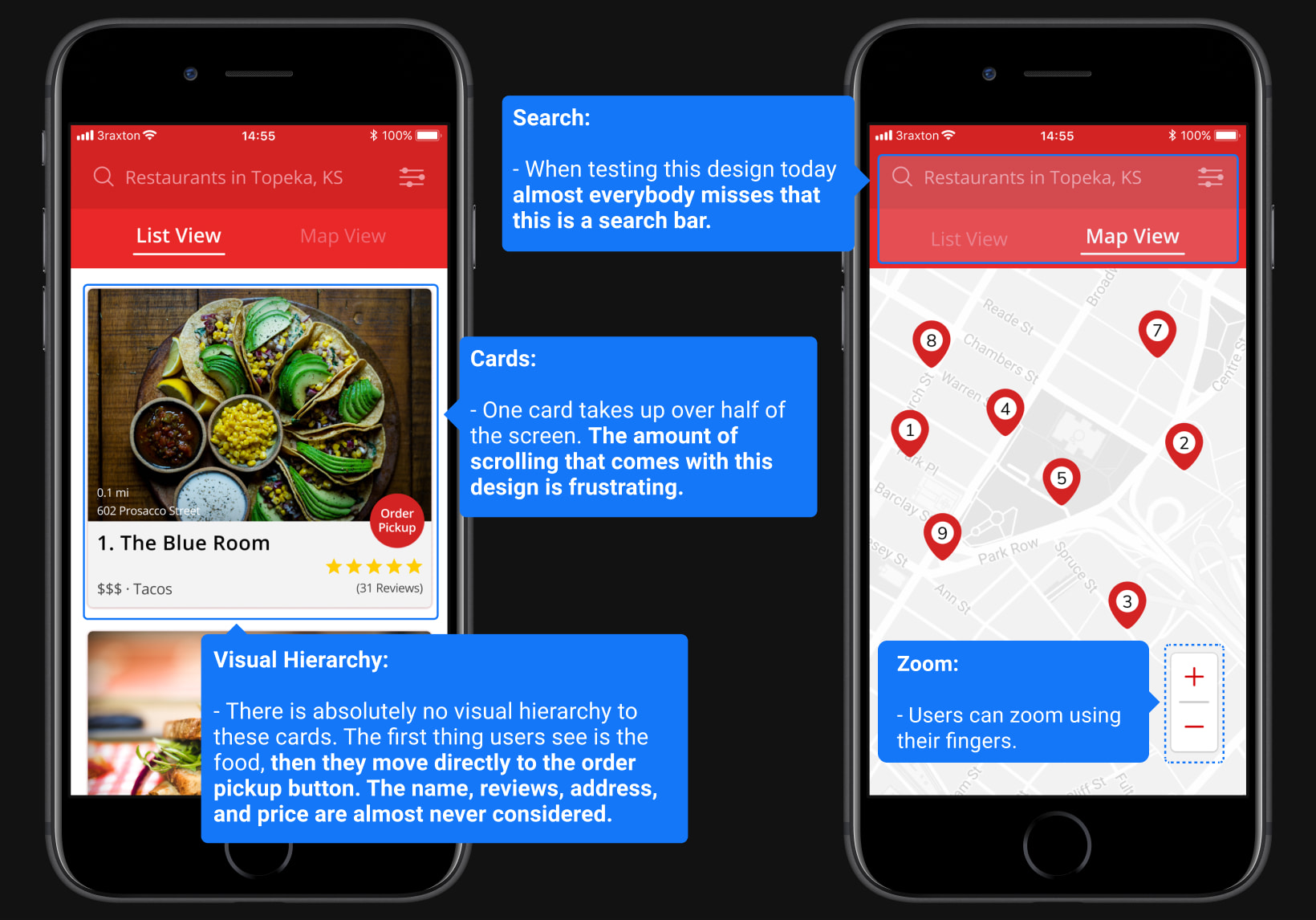 What I Learned
Just because you can do it all doesn't mean that you should. Then, I thought the key to being a great designer was applying everything I was learning through online tutorials to my work.
The only thing I was learning from these was how to use tools like Sketch and Principle to make a nice design. I wasn't learning how to design for the users of these products.

Reaching out to other designers for feedback or asking current users of Yelp about their struggles is essential. Then, I saw it as unnecessary because if I was designing for the user, I knew what they needed.
At that time, I had no idea what to do when designing for users. I didn't understand that I needed to conduct interviews or get feedback.
Communication through Design
Professionalism and communication is the paramount prospect to any modern design. I stayed up all night, putting together my text-heavy case study in Google Slides and sent it off to Uber an hour before the deadline.

Waiting until the last minute caused me to struggle to create a case study that was clear and to the point.

There was a lack of focus on my design process, and my final case study was incredibly cluttered.
My slides were repetitive and didn't touch on my design process or how the design I submitted helped improve the user's experience.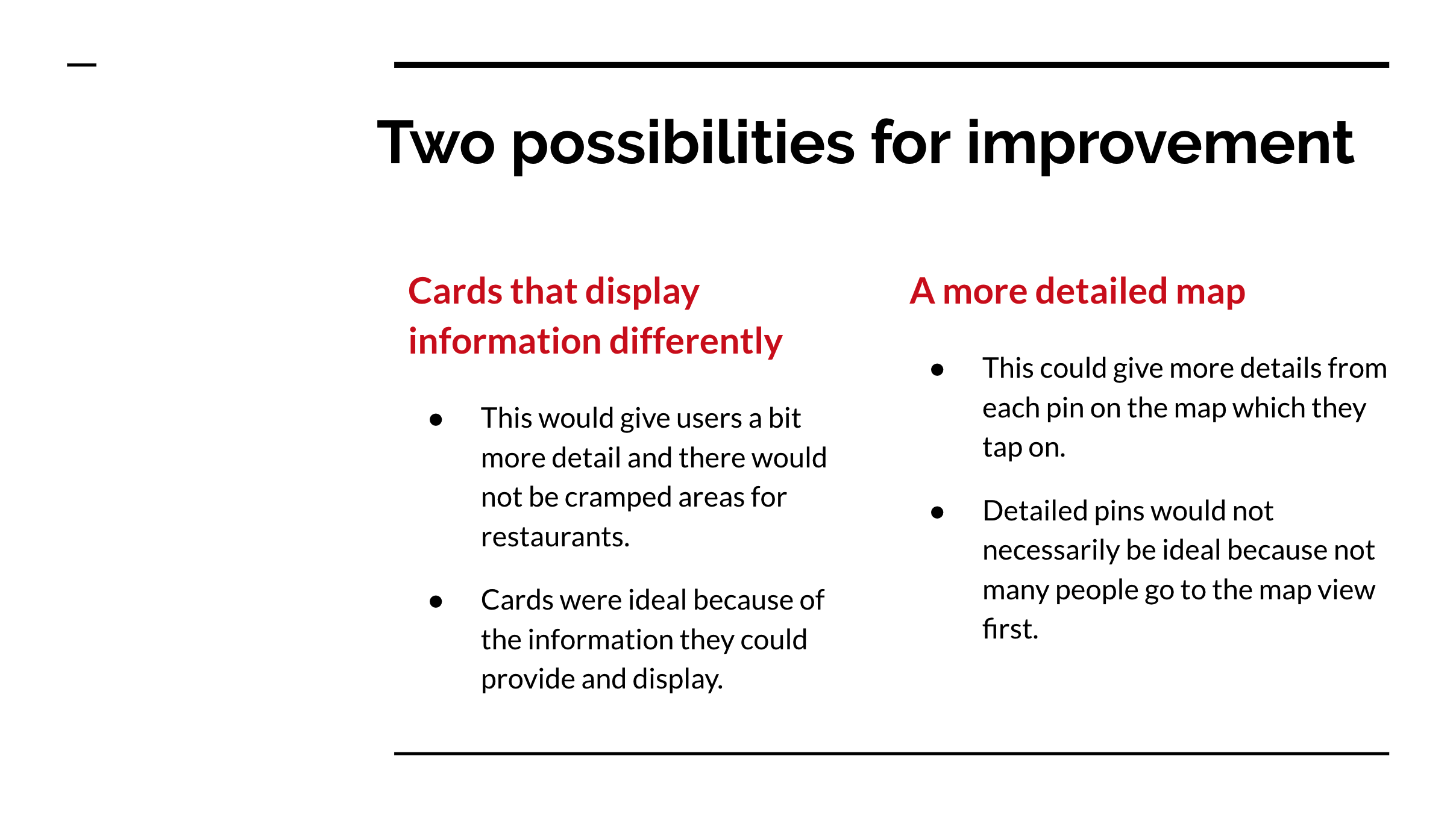 Where I Am Now
As I prepare for graduation from an interaction design program, I've learned the importance of understanding user's pain points, the benefits of testing with users, the influence of feedback from designers and users, as well as, how to better prepare a case study.
While my designs continue to evolve, there is still room to learn and improve.
My second interface was better than the first but was still confusing to understand and hard to follow.
Through reflection, I continue to find changes that can be made to create a much better interface.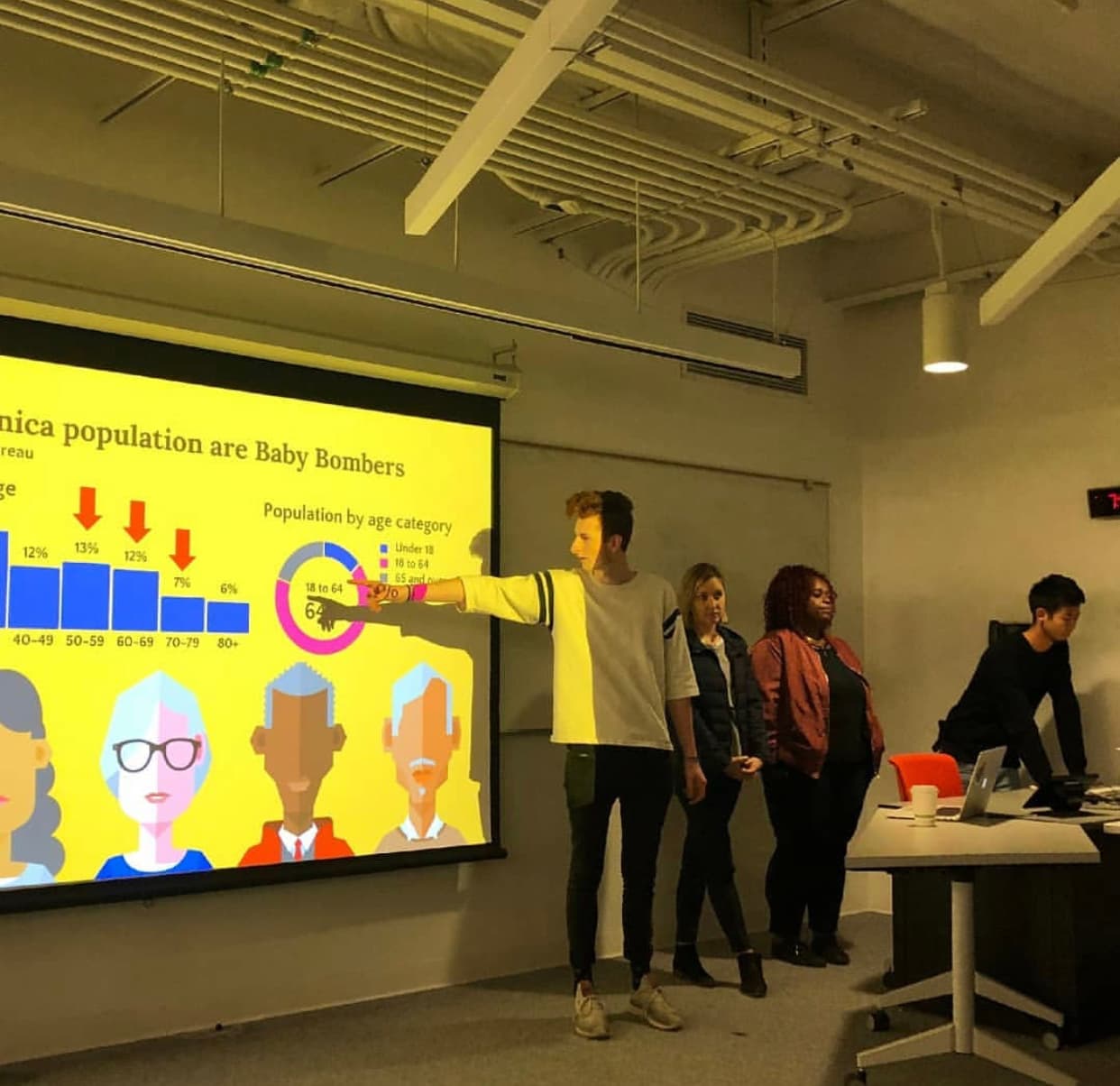 What's Changed
Instead of trying to complete both parts of Uber's design challenge and focusing on one area, I would have been able to showcase my design strengths better.
A Better Approach—This design exercise outlined what I should avoid when working on projects and provided me with a better approach to sharing my design process.
Important Aspects—I've learned more effective ways of interviewing users, understanding feedback to combat pain points, and the importance of utilizing the information gathered to create more meaningful experiences.
A Revisit
Following Uber's design exercise, I've decided to revisit the project and utilize what I've learned over the last few years in the interaction design program at Santa Monica College to redesign the screens I submitted for the design exercise.
Instead of focusing on what I thought would be exciting to design, I focused on the user's needs through research, and the designs changed immensely.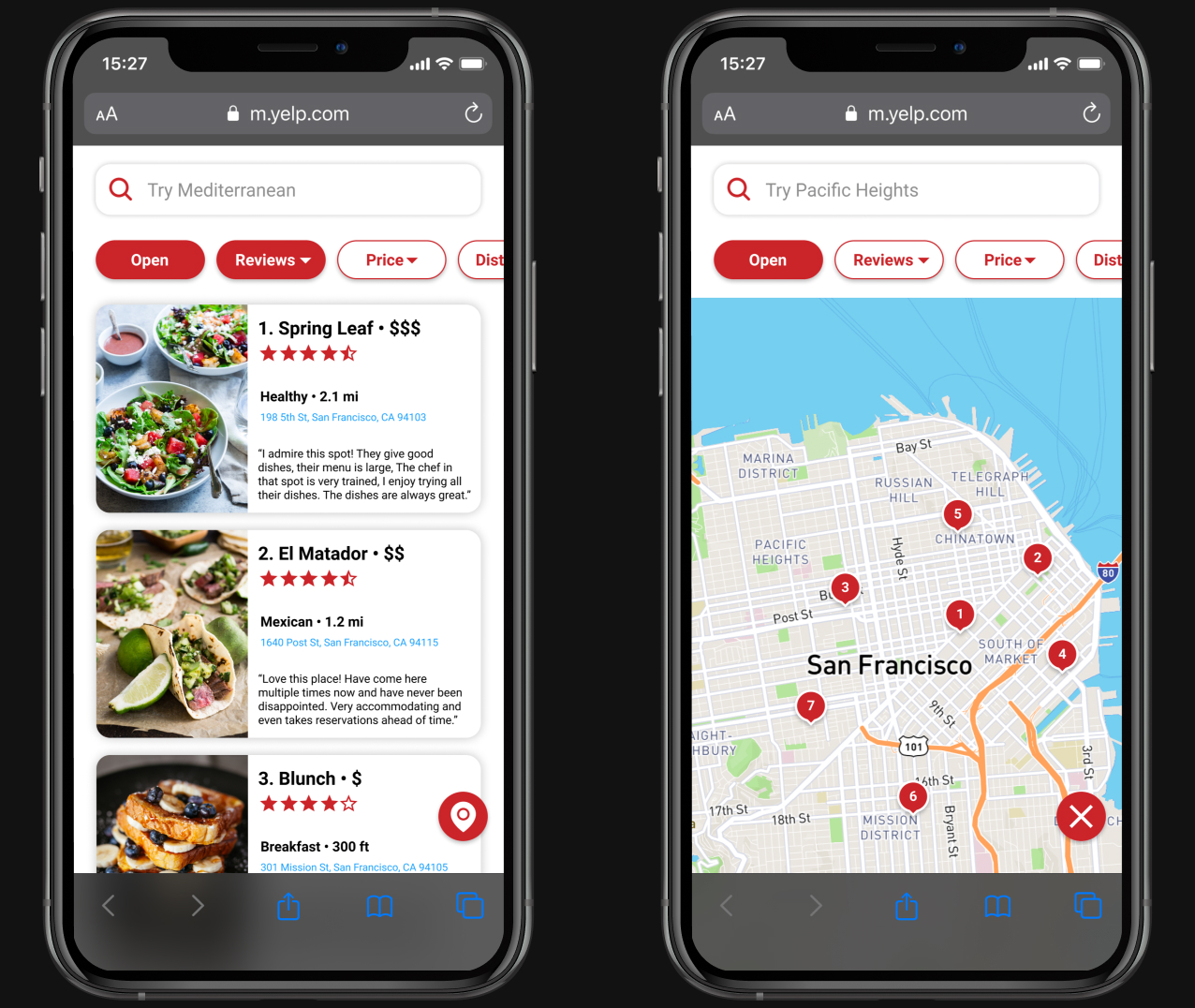 The Change in My Process
During the past two years, I've learned more about how important it is to understand each user's needs. When working on this exercise in 2017, my primary focus was on my redesign process.
After completing this project and reflecting on it, my focus has changed to the user and making sure the final design solves their pain points.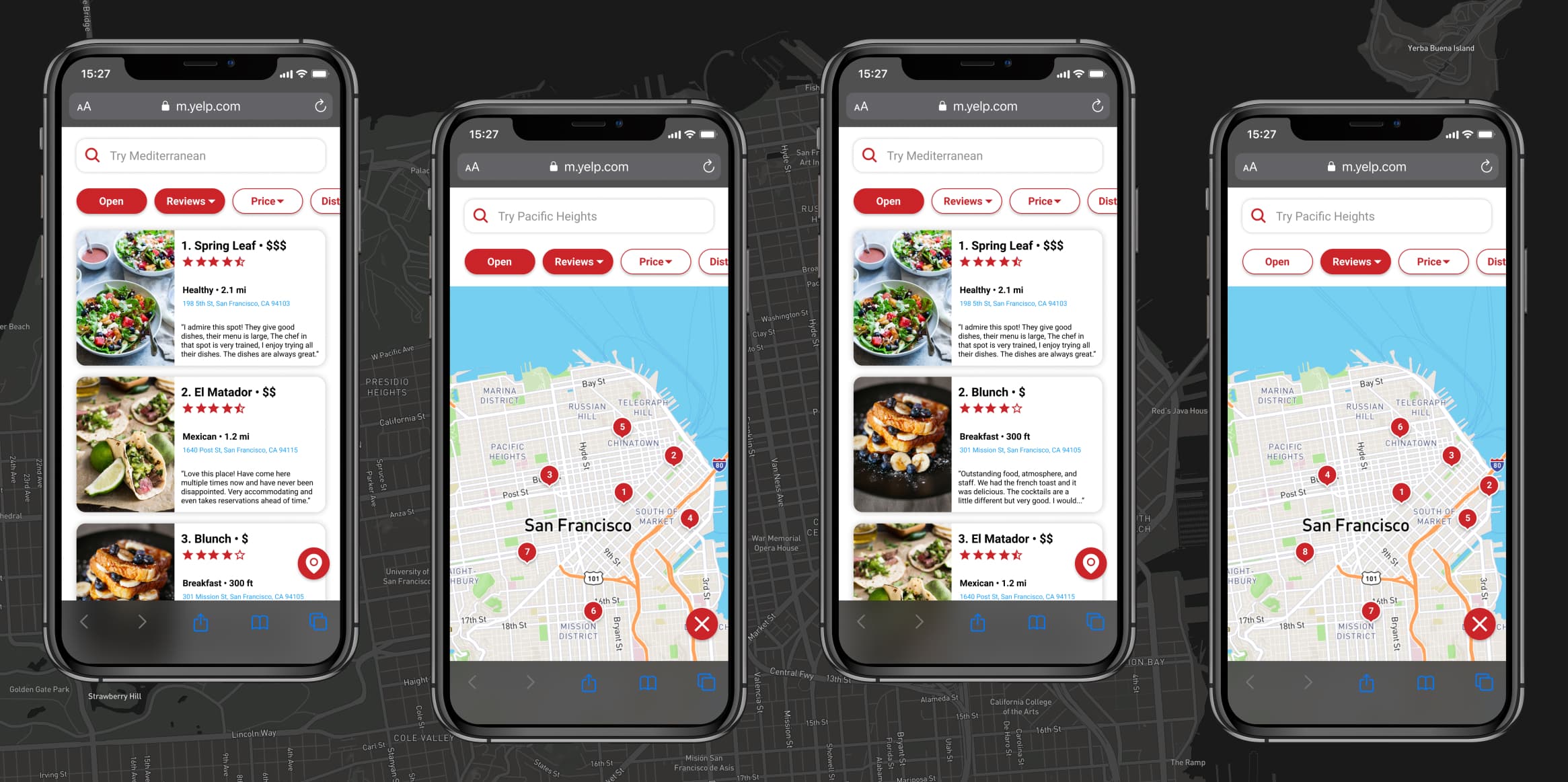 Questions?
If you have any questions about my coming of age reflection please feel free to reach out by email or connect with me on LinkedIn. (I'm seeking a UX position in tech)